Polar Knives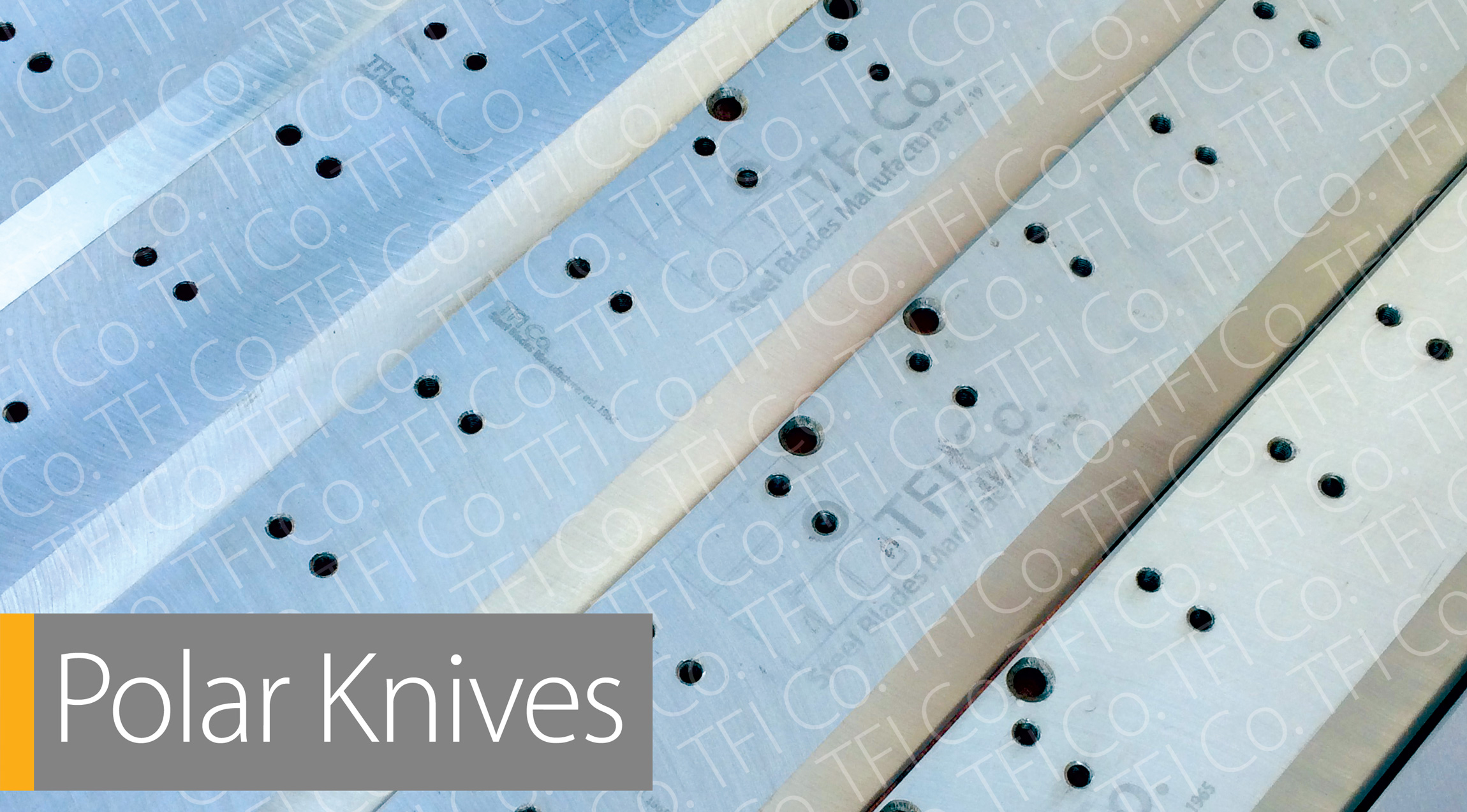 Paper Cutting Blades and Knives
Contact Your Nearest branch to get the latest update on the   Price  and  Promotions  for  Polar Blades 
TFI Co.
Our paper cutting blades are designed to deliver precision and accuracy every time, whether you're cutting books, catalogue papers or business cards. Choose from three high-quality materials, including alloy steel with a hardened tip, HSS-inlaid cutting edge or tungsten carbide inlaid, for the ultimate in durability and longevity.
Cutting Edge Material and Quality
Our tungsten carbide inlaid blades are the standout choice, thanks to their unbeatable durability and precious carbide tip. You'll notice the darker color compared to regular steel, showcasing the unique sensitivity and precision of our manufacturing process.
Polar? Wohlenburg?
Our company specializes in manufacturing cutting-edge paper blades for world-renowned brands like Polar and Wohlenburg. Whether you need an alloy steel cutting edge with a hardened tip, an HSS-inlaid cutting edge for extra durability, or a tungsten carbide inlaid blade that is built to last, we've got you covered! Just let us know the model number of the machine and a picture from holes of the paper knives!
Machine respected Brands
Polar™:
TFI Co.™ is proud to manufacture machine knives for Polar, a renowned brand in the paper cutting industry. Our knives are expertly crafted to meet the high standards of Polar's cutting machines, ensuring precise and accurate cuts every time. Whether you need guillotine knives, cutting sticks or any other type of knife, TFI Co. has got you covered.
Wohlenburg™:
As a trusted manufacturer of machine knives, TFI Co.™ is committed to delivering top-quality products for Wohlenburg cutting machines. Our team of experts utilizes advanced manufacturing techniques to produce knives that are durable, reliable and designed to meet the specific needs of Wohlenburg users. Choose TFI Co.™ for all your cutting knife needs.
Challenge Machinery™:
Challenge Machinery is a well-known brand in the paper cutting industry, and TFI Co.™ is proud to manufacture machine knives that meet their high standards. Our knives are crafted from top-quality materials and designed to deliver precision cuts every time. Whether you need knives for a small desktop machine or a large industrial model, TFI Co.™ has the expertise and experience to deliver the right solution for your needs.
Schneider Senator™:
At TFI Co.™, we understand the unique needs of Schneider Senator users, and we manufacture machine knives that are perfectly suited to their machines. Our knives are crafted with precision and care, using the latest manufacturing techniques and the highest-quality materials. When you choose TFI Co. for your Schneider Senator knives, you can trust that you are getting the very best.
EBA-Metzger™:
For those who rely on EBA-Metzger cutting machines, TFI Co.™ is the ideal choice for their machine knife needs. Our knives are designed to meet the high standards of EBA-Metzger, delivering accurate and precise cuts every time. With a wide range of knife types and materials available, we have the perfect solution for your EBA-Metzger machine.
Send us your enquiry Now!
Don't settle for less when it comes to your paper cutting needs. Choose our expert team for unbeatable quality and performance every time. Ready to take action? Call us now, or send us an Instagram or Telegram message with your enquiry and business contact details. Our friendly and knowledgeable staff will get back to you promptly with the best price offer, delivery time and payment terms. Choose us for the ultimate in precision and performance for your paper cutting needs.
Contact TFI Co.