Circular Saw Blades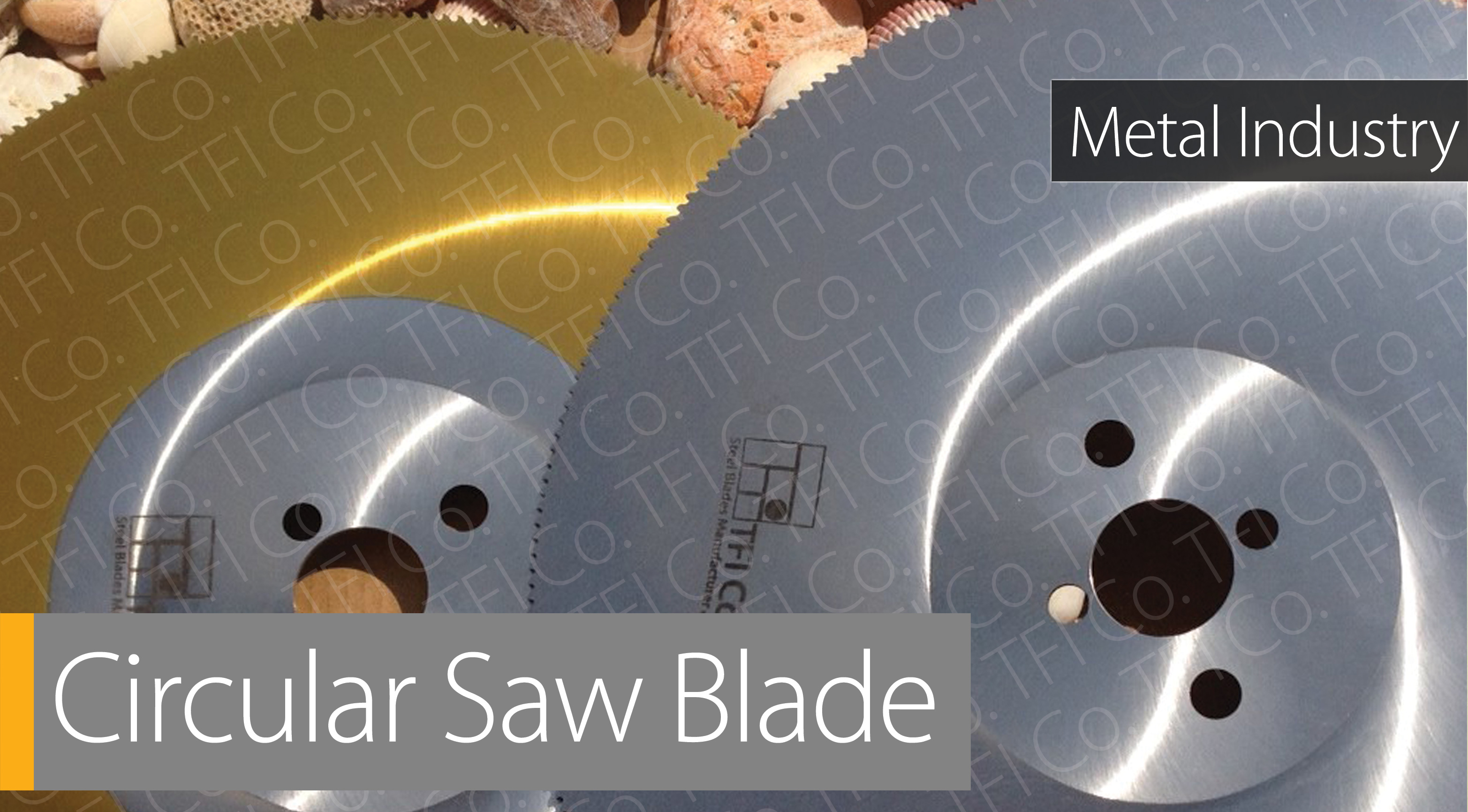 HSS Circular Saw Blades 
Titanium (TIN) Coated
Hardened and Annealed
TFI Co Manufactured
For Cutting Metal Mesh and Strips
MetalWorking Circular Saw Blade and machine knives
For more info please send u mail for Outer Diameter Inner Diameter and The Material You do Cut
TFI Co. Circular Saw Blades
TFI Co. manufactures cutting-edge circular saw blades with advanced features to ensure exceptional performance:
TFI Co. utilizes TiCo Hi-Density Micro-Grain Carbide for extreme cutting life and clog-free cuts.
The blades feature a durable Triple Chip Grind (TCG) tooth design, providing clean, burr-free cuts and virtually no rework.
Our Special Alloy steel Shock Resistant Brazing enables our metal cutting carbide tips to withstand extreme impact, ensuring maximum durability.
The blades have an advanced laser-cut thin kerf design, enabling fast and effortless cuts in cordless saws.
Laser-cut stabilizer vents are incorporated to trap noise and vibration, keeping the blade cool and reducing blade warp.
The blades are coated with a non-stick Perma-Shield Coating, which reduces gumming, rusting, and corrosion.
Optimized for compatibility with 1/2", 5/8", 10mm, and 20mm cordless saws from various brands such as Milwaukee, Bosch, Panasonic, Makita, Skil, and DeWalt.
They are ideal for cutting medium aluminum (3/32"-1/4" thickness), copper, plastics, brass, and fiberglass.
Laser-Cut Stabilizer Vents further enhance accuracy and durability by trapping noise and reducing vibration.
To learn more about our circular saw blades, please fill out our form. You can also call us now or check our video instructions.
Countries We Have Served
We are proud to have served industries in the following countries and look forward to expanding our services to more regions:
United Arab Emirates (UAE)
Saudi Arabia
Oman
TFI Co. Cold Saw for Pipe Cutting
Our TFI Co. Cold Saw is specifically designed for cutting pipes. It is suitable for use in high-precision cold saw machines. The equipment provides excellent cutting performance for tubular materials, excluding stainless steel.
TFI Co. Cold Saw Blade for Medium & Low Carbon Steel
Our TFI Co. Cold Saw Blade for cutting medium and low carbon steel offers the following features:
Tipped teeth for precise cutting
Special angle design
Perfectly straight cutting
Mirror-like cutting surface
High durability
This blade is suitable for high-precision cold saw machines and cutting medium and low carbon steel materials.
What to Consider When Choosing Your Cold Saw
When purchasing a TFI Co. Industrial Cold Saw, there are important factors to consider. The blade plays a crucial role in achieving a great cut. Here are some guidelines for cutting different materials:
Mild Steel: Optimal cut quality and blade life are achieved by cutting at a speed of approximately 100 to 125 SFM (surface feet per minute).
Stainless Steel: Multiply the tooth count in the chart by 1.2 to ensure proper blade life and cut quality. Optimal cut quality and blade life are achieved by cutting at a speed of approximately 70 SFM.
Aluminum: Multiply the tooth count in the chart by 0.75 to ensure proper blade life and cut quality. Optimal cut quality and blade life are achieved by cutting at a speed of approximately 300 SFM.
Similar rules apply to solids as they do to tubes and pipes when it comes to cut quality and blade life. The right blade speed is essential.
The Areas TFI Co. Supports with Cold Saw Circular Blades
We take pride in supplying our high-quality TFI Co. branded blades to various areas, including:
United Arab Emirates (UAE): Dubai, Abu Dhabi, Musaffah, Sharjah, Ajman, Ras Al Khaimah
Saudi Arabia: Riyadh, Dammam, Jeddah
Oman: Muscat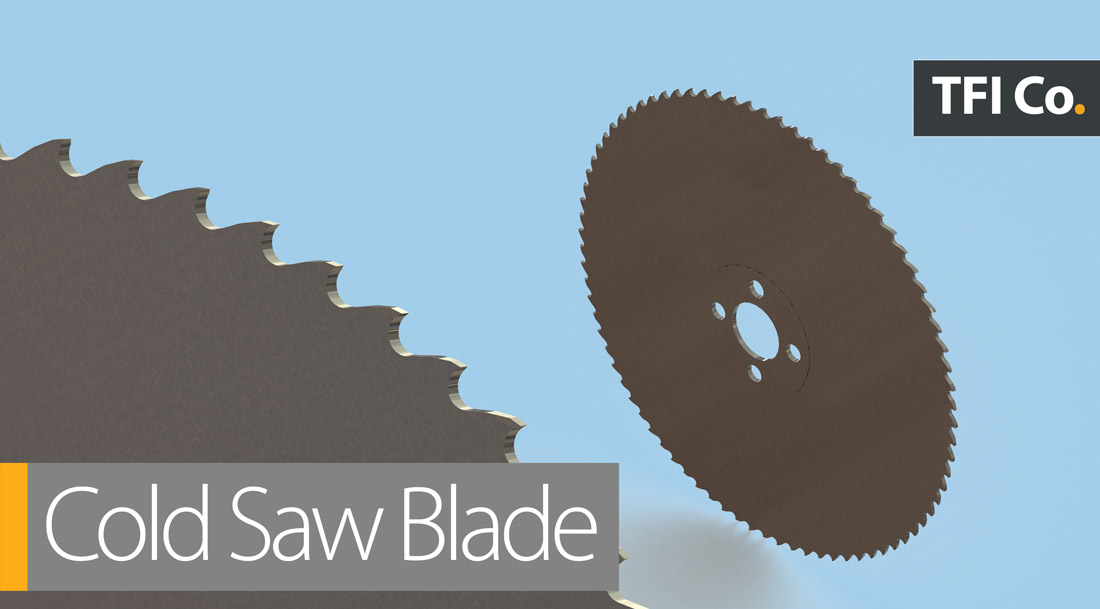 Cold saw blades are specialized tools designed for precise and cool cutting operations. When discussing the technical points about cold saw blades, several key aspects come into play:
Most cold saw blades are made of either High-Speed Steel (HSS) or are Tungsten Carbide-Tipped (TCT). HSS blades are generally more flexible and less brittle than TCT blades, while TCT blades tend to retain their sharpness longer and can cut harder materials.
Cold saw blades come in various diameters, typically ranging from 150mm to 450mm, depending on the machine and the application.
The number of teeth on a blade affects the type of cut. Fewer teeth result in faster cuts but rougher finishes, while more teeth give smoother finishes but slower cuts.
The shape and angle of the teeth play a crucial role in the cutting process. Common tooth geometries include ATB (Alternate Top Bevel) for softer metals and TCG (Triple Chip Grind) for harder metals and abrasive materials.
The kerf is the width of the cut made by the blade. A thinner kerf removes less material and requires less power, while a thicker kerf can be more durable and resistant to wear.
RPM (Revolutions Per Minute)
Cold saw blades are designed to operate at specific RPM ranges. Exceeding the recommended RPM can cause premature wear and potential blade damage.
Cold saws often use coolants to keep the blade and material cool during cutting. The blade should be compatible with the type of coolant used to prevent corrosion and ensure effective cooling.
Some cold saw blades undergo specific heat treatments to enhance their durability and wear resistance.
Some blades have special coatings, like Titanium Nitride (TiN), to reduce friction, increase wear resistance, and extend blade life.
Some cold saw blades are designed for specific materials, such as stainless steel, aluminum, or brass. Using the right blade for the material ensures optimal performance and longevity.
The pitch refers to the distance between the teeth. A variable pitch, where the distance between teeth varies, can reduce vibrations and improve the quality of the cut.
The gullet is the space between the teeth, which allows for chip removal. The size and shape of the gullet can influence the blade's performance, especially in chip evacuation.
Fill out form
Call us now
Video instructions
---
HSS Circular Saw Blades and Coatings
HSS circular saw blades are manufactured using different high-quality materials, such as:
"HSS-DMO5" (DIN 1.3343) – Super high-speed steel with a high content of tungsten and molybdenum.
"HSS-CO5" (DIN 1.3243) – Super high-speed steel containing 5% cobalt, recommended for high-temperature applications.
We are here to assist you in selecting the most suitable blade design, tooth geometry, and coating for your specific sawing needs.
The Coatings
HSS circular saw blades are available with various coatings to enhance their performance. These coatings include:
Steam Treated TiN Coating
A steam-treated saw blade features a ferric oxide surface coating that prolongs blade life compared to a bright saw blade. This type of coating is primarily used for cutting steel on manual and semi-automatic sawing machines.
TiN Coating
TiN coating is a titanium-based layer that is 3 microns thick. The coated layer achieves a hardness of 2480 Vickers. It is suitable for cutting low alloy steel and should always be used with ample lubrication. However, it is not suitable for cutting copper, brass, or bronze.
TiCN Coating
TiCN coating, 2.5 microns thick, is formed through a plasma of titanium and carbon, resulting in a high hardness of 3000 Vickers. Its low friction coefficient (0.22) makes it ideal for cutting highly abrasive materials like stainless steel and medium-alloyed steels with a hardness of up to 800 N/mm². The reduced friction coefficient helps minimize chipping at the cutting edge and disc sidewall.
TiAlN Coating
TiAlN coating is a multilayer coating that is 3 microns thick. The plasma is obtained from the fusion of a titanium/aluminium cathode. This excellent coating offers high thermal resistance, with an oxidation temperature of 800°C and a surface hardness of 3400 Vickers. The friction coefficient is 0.45, allowing circular saws to perform exceptionally well even with limited or minimal lubrication and misting. It is particularly suitable for cutting high alloy steels up to 1100 N/mm², cast iron, stainless steel, and materials generating significant heat.
Fill out form
Call us now
Video instructions