Rebar Bend & Cut UAE

TFI Co. - Your Reliable Shearing Solution Provider
At TFI Co., we are dedicated to delivering the best technical and economical solutions for your specific shearing applications. Our extensive range of blade materials has been carefully developed to cater to various cutting needs, ensuring optimal performance and efficiency.
Experience the superior capabilities of our blade offerings:
TFI Co. Blades for Hot Cutting
TFI Co. Blades for Cold Cutting after QTB
TFI Co. Knives for Intermediate Hot Cutting
TFI Co. Knives for Cold Cut-to-Length
Grinding Capacity of TFI Co. Knives:
Our knives are designed to withstand multiple grinding operations, ensuring consistent cutting quality and a longer lifespan. With refurbishing options and customized shims, we provide a reliable solution that extends the total lifetime of your knives. Our regrinding process is integrated with a feedback and monitoring system, ensuring traceability and quality control for every TFI Co. knife supplied.
Quality Control and Material Excellence:
At TFI Co., we adhere to stringent quality control standards throughout our production cycles. Our materials and knife shapes are meticulously chosen by our experienced engineers to deliver outstanding performance, longevity, and reliability. From engineering and knife design to material supply, manufacturing, and CNC machining, every step is carefully executed in compliance with our comprehensive Quality Control Plan (QCP).
TFI Co.: The Choice for Top-Quality Knives in Long Product Rolling Mills
Our TFI Co. Blades for Hot Cutting boast high thermal conductivity and the presence of alloying elements that enhance hardness retention. With our specific electro-slag remelting process, we ensure high resistance to material overheating. These blades also feature a high content of carbide-forming elements such as Cr, Mo, and V, further enhancing their performance.
For Cold Cutting after QTB, our TFI Co. Blades offer exceptional qualities. They have a high content of carbide-forming elements, providing excellent impact strength. Our secondary metallurgy processes and increased small carbide-forming elements contribute to their superior mechanical properties, including hardness and compressive strength. These blades also exhibit high thermal conductivity and a significant amount of alloying elements for enhanced hardness retention.
When it comes to Cold Cut-to-Length applications, our TFI Co. Knives excel. With the presence of nickel in the alloy, they offer improved impact strength without compromising blade hardness. The balance of chromium (Cr) and molybdenum (Mo) ensures high mechanical properties, particularly yield strength. These knives achieve higher hardness values compared to other steel grades, making them incredibly robust and reliable.
Countries We Have Proudly Served
At TFI Co., we take pride in serving industries in various countries across the globe. We are committed to delivering exceptional products and services, and we are always looking forward to expanding our reach and serving more countries in different regions. Some of the countries we have already served include: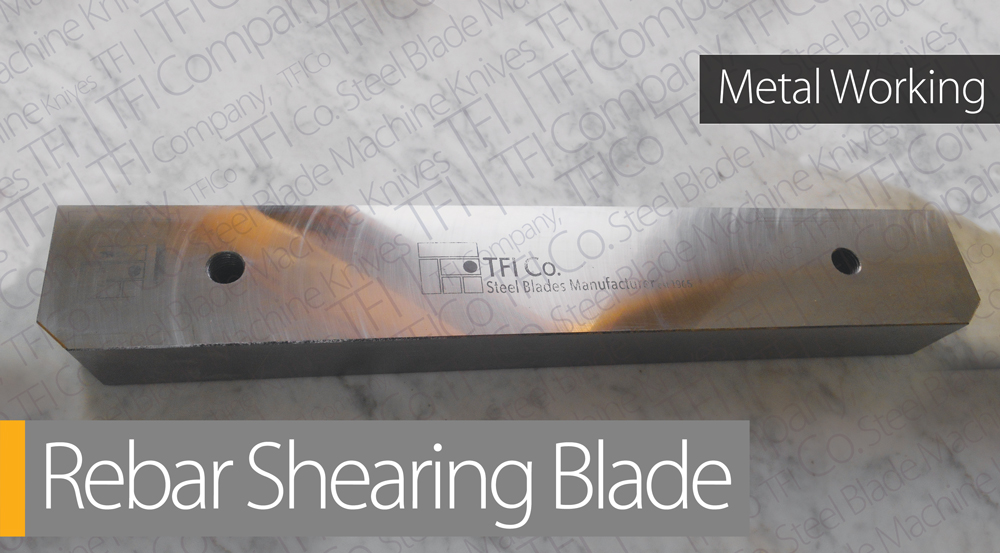 UAE
Canada
United Kingdom
Germany
France
Italy
China
Japan
India
Australia
Saudi Arabia
Upload your drawings now to receive a fast and accurate quote for your steel blades and machine knives. We are here to provide competitive prices and ensure timely delivery for mass quantities. Contact us today and experience the TFI Co. difference!
Upload Your Drawings Now
Call us now
Video instructions
---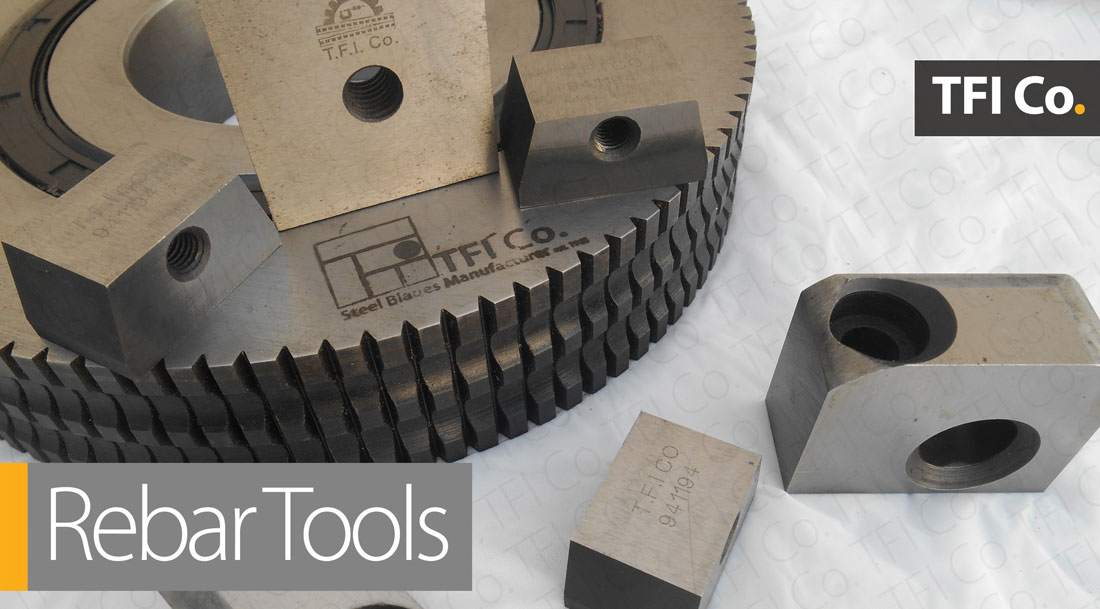 ---
Rebar Cutting Machine Knives and Steel Blades for Building Rebar Factories in GCC
At TFI Co., we specialize in the manufacturing of high-quality rebar cutting machine knives and steel blades designed to meet the rigorous demands of the construction industry in the GCC region, including UAE, Qatar, Oman, and Saudi Arabia. Our cutting-edge blades are the perfect solution for cut-to-length rebar machines used in various applications.
---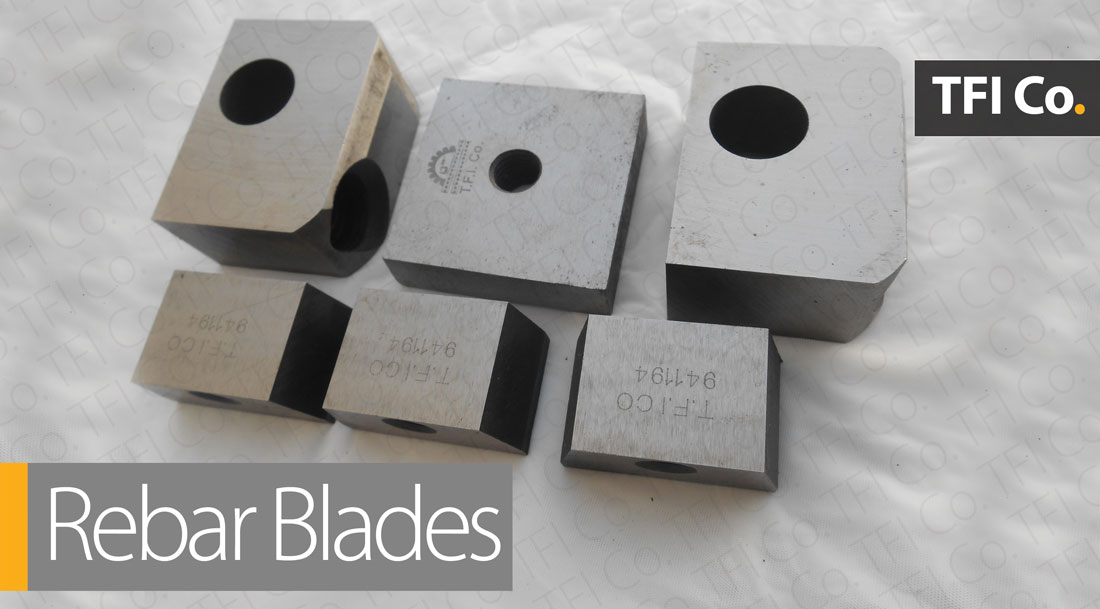 ---
When it comes to precision and reliability, our CNC machine knives are second to none. We understand the importance of accuracy and efficiency in cut and bend processes, and our blades are engineered to deliver exceptional performance. Manufactured with the highest standards in mind, our rebar machine blades are compatible with leading European-made machines, including Oscam™, Schnell™, Tecmor™, and OF.ME.R.™ (OFMER).
TFI Co. is renowned worldwide for producing shear blades that are known for their sturdiness and durability. Our blades are made from high-strength steel and specially hardened to ensure longevity and consistent performance. With our expertise in metallurgy, we have engineered our blades to withstand the demanding conditions of rebar cutting machines, providing a longer lifespan for both the blades and the moving mechanical parts.
Our steel blades are specifically designed for cold-working applications, and their unique shape allows for reusability up to four times, maximizing cost-efficiency and reducing downtime. Additionally, we offer high-quality shearing blades such as the 50 x 50 x 15 mm square rebar cutter shearing knives with one hole M12.
Furthermore, TFI Co. also provides manufacturing services for feeder rollers and straightener rollers. With our expertise in precision engineering, we ensure the highest quality standards for these essential components used in rebar processing.
Don't miss out on our exceptional products and services. Upload Your Drawings Now to get started or Call us now to speak with our knowledgeable team. For helpful video instructions, visit Video Instructions.