Paper Industry

Cutting-Edge Industrial Knives for Paper Processing | TFICO
In today's ever-evolving paper industry, new paper types and advanced processing technologies demand superior-quality knives. At TFICO, we understand the unique requirements of our customers' processing equipment and production conditions. That's why we are committed to delivering high-performance knives that excel in durability and performance.
Our knives are meticulously crafted using top-quality raw materials and precise machining techniques. We offer a range of options, including knives made from high-alloy inlay and solid materials. The careful selection of raw materials plays a crucial role in the longevity and performance of our knives.
With our state-of-the-art heating processes, we breathe life into our knives. Our exceptional heat treatment ensures the perfect hardness, achieved through modern equipment and processes such as vacuum, protective atmosphere, electric and gas heated furnaces, quenching and tempering, soft annealing, and TFI Co. case hardening.
"Perfect quality, extensive experience, excellent service, and building a long-term fair partnership – this is who we are – TFI Co. KNIVES."
We proudly manufacture blades for a wide range of renowned brands in the industry. Some of the popular brands we cater to include Adast-Maxima, Atlas, Bourg, Brackett, Brehmer-Heidelberg, Campeador, Casagrande, Challenge, Comeca-F.T.P., Como, Consolidated, Corta-Rapier, Dahle, Eba-Krugg&Priester, F.L., Goodhale, Herold-Tempo, Hohner, Hörauf, Horizon, Hunkeler, Ideal-Krug & Priester, Imperial, Itoh, Jud, Katsuta, Kolbus, Krause-Biagosch, Laser, Lawson, Macey-Harris-Sheridan-Omega, Mandelli, Martin Yale, Maxima-Adast-Kovo, McCain, Müller Martini-Grapha, Nagai, Nebiolo, Omac, Osako, Perfecta, Pivano, Polar, Rapier Matic, Rosback-Camco, Schneider-Senator, Seybold, Sheridan, Sunray, Wohlenberg, and more.
Types of Paper Industry Machine Knives We Offer
Straight knives for guillotines (paper cutting knives)
Three-knife trimmers
Slitters
Knives for printing and bookbinding industry
Countries We Have Proudly Served
TFICO has had the privilege to serve the manufacturing industries in the following countries, providing exceptional products and solutions. We are dedicated to expanding our reach to more countries and regions, ensuring that industries worldwide benefit from our high-quality machine knives:
United Arab Emirates (UAE)
Saudi Arabia
Oman
As part of our commitment to continuous growth and customer satisfaction, we are ready to expand our mass production capacity for machine knives on a yearly basis, serving both existing and new markets. Contact us today to discuss your requirements and explore how TFICO can be your reliable partner.
Upload Your Drawings Now
Call us now
Video instructions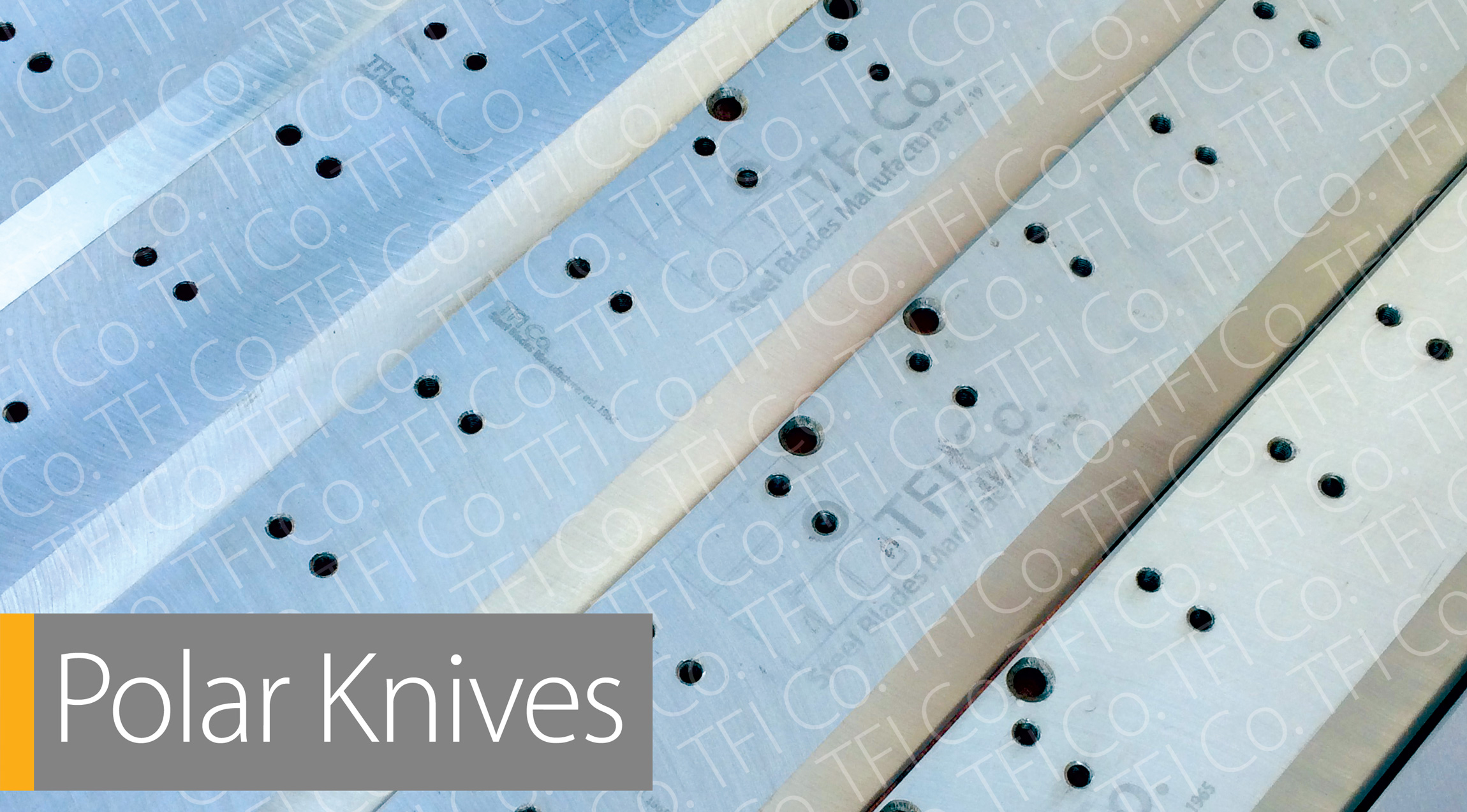 Paper Cutting Knives UAE
We select the right alloy steel with minimum cost and the suitable carbon percentage based on your application
The Best sensitive heat treatment done by experts in the machine knives industry to satisfy the paper industry requirements
We Craft with the finest CNC Machines the Steel Made Machine knives for paper working industrial units to meet your satisfaction
---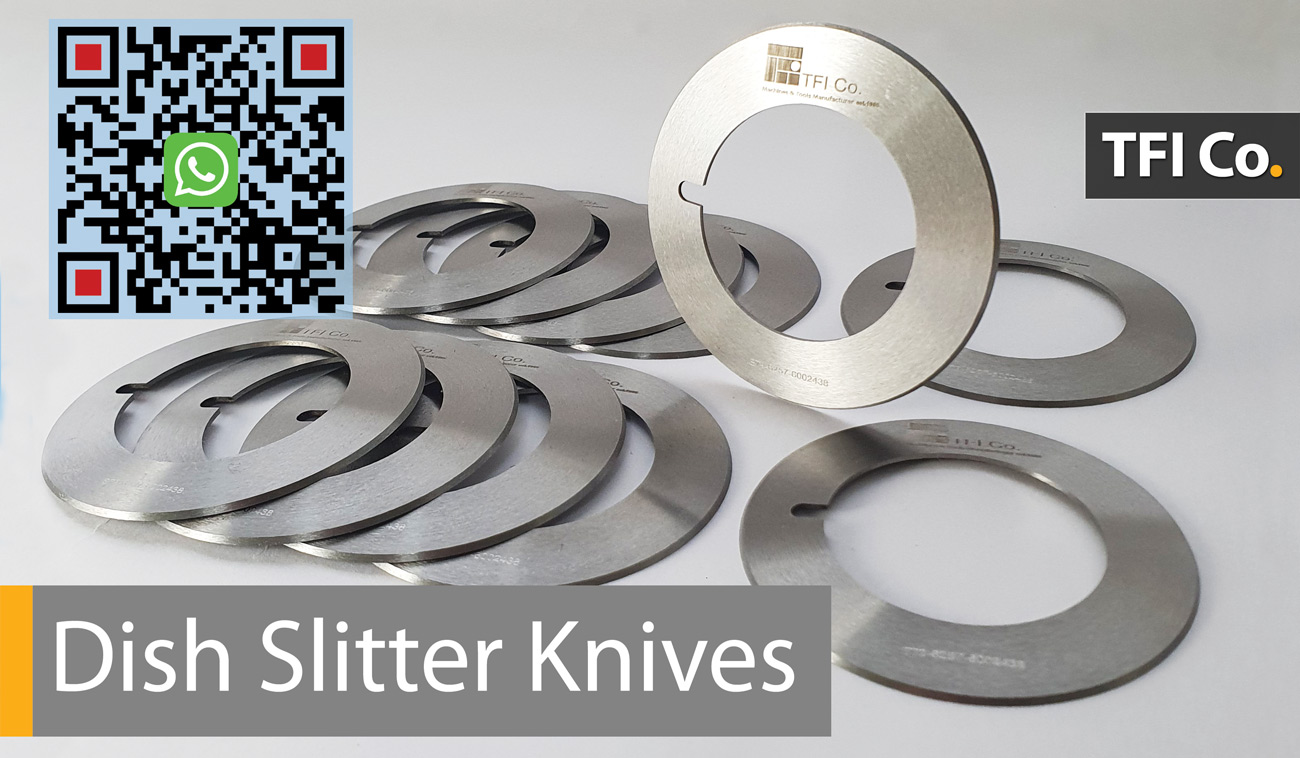 Dish Slitter Knives: Precision Cutting for Diverse Industries
Dish slitter knives, also recognized as dished slitters or circular knives, are indispensable cutting tools utilized across various industries for precise cutting and slitting of materials. Characterized by their circular and concave profile, these knives deliver efficient cutting, making them versatile for diverse applications.
Applications Across Industries
Dish slitter knives are extensively used in the paper industry to cut and slit paper rolls, ensuring clean and accurate cuts that enhance the efficiency of paper processing machines.
In the converting industry, these knives play a crucial role in cutting and slitting films and foils, contributing to high-quality production in packaging and label manufacturing.
The textile sector benefits from dish slitter knives for cutting fabrics, textiles, and non-woven materials, thanks to their circular design that allows for smooth and controlled cutting without causing damage to the materials.
Manufacturing Excellence by TFI Co.
TFI Co. specializes in manufacturing dish circular blades tailored for industries in the UAE, Oman, Saudi Arabia, Qatar, Oman, Belarus, and Russia. Our blades are engineered with precision to meet the specific cutting needs of diverse applications across these regions.
Fill out form
Call us now
Video instructions