Slitter Knives

Sheet Slitting Process - Precision Cutting for Superior Results
When it comes to metalworking, the sheet slitting process plays a crucial role in transforming large sheets of metal into smaller, more manageable strips. At TFI Co., we understand the importance of precision cutting in achieving superior results. Our state-of-the-art metal sheet slitting knives are meticulously crafted to meet the rigorous demands of the industry.
The sheet slitting process begins with the metal sheet being fed into a specialized machine. This machine guides the sheet through a series of carefully positioned rollers, ensuring a smooth and controlled movement. As the sheet advances, it encounters our cutting-edge slitting knives, which are mounted on precision spacers.
These slitting knives are expertly set to the desired width of the strips. With their razor-sharp edges and exceptional durability, they effortlessly slice through the metal, creating strips of the precise width required by your application. The strips are then carefully coiled and packaged, ready for shipping or further processing.
At TFI Co., we utilize high-quality steel to manufacture our slitting knives. This ensures that our blades can withstand the extreme stress and wear encountered during the slitting process, maintaining their sharpness and efficiency over time. With our precision-engineered slitting knives, you can trust that every cut will be clean, accurate, and of the highest quality.
Experience the power of precision cutting with TFI Co.'s sheet slitting knives. Enhance your metalworking operations and achieve superior results. Contact us today to learn more about our cutting-edge solutions.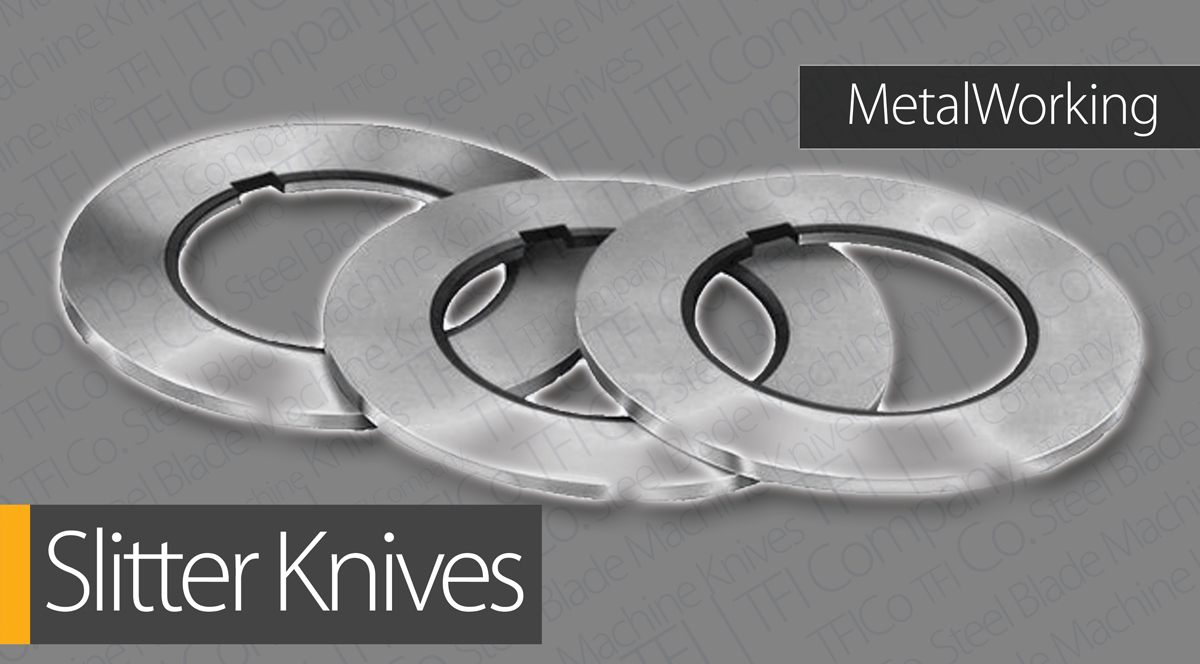 TFI Co. Slitting Knives - Precision Engineering for Superior Performance
High-Quality Materials

At TFI Co., we take pride in crafting slitter knives using only the finest alloy steel and tungsten carbide materials. Our dedication to quality ensures that our blades deliver exceptional performance and unmatched durability. Trust us to provide you with reliable and long-lasting blades for all your metal sheet slitting needs.

Precision Manufacturing

When it comes to precision, we leave no room for compromise. Our expert team employs cutting-edge technology and techniques to manufacture slitting knives with utmost accuracy. Each blade is carefully crafted to maintain straightness, accurate dimensions, and strict adherence to customer specifications. With TFI Co., you get slitter knives that are tailored to perfection.

Expert Heat Treatment

Heat treatment is a critical aspect of our manufacturing process, and we are experts in the field. Every TFI Co. slitter knife undergoes a rigorous heat treatment process, ensuring the desired hardness, toughness, and wear resistance. The result is blades with superior cutting performance that excel under even the most demanding conditions.

Rubber Insert Option

Enhance the performance of our slitter knives with our rubber insert option. Designed to minimize damage to metal sheets, our high-quality rubber inserts fit snugly in the blade's grooves, providing added protection and precision cutting. Count on TFI Co. to offer innovative solutions for your slitting needs.

Mass Production Capability

With over 60 years of experience, our large-scale production capability sets us apart. At TFI Co., we have the capacity to manufacture and deliver slitter knives in mass quantities to meet the demands of our customers, including factories and machine manufacturers worldwide. Rest assured, we have the capability to fulfill your requirements, no matter the scale.

Global Reach - Serving Industries Across the Globe

Our reach extends beyond borders. TFI Co. proudly serves industries in various countries, including Saudi Arabia, UAE, Qatar, Oman, Belarus, and Russia. Wherever you are located, you can trust us to deliver the highest quality slitting knives and spacer solutions. Our expertise and experience in the industry make us the preferred choice of businesses worldwide.
Upload Your Drawings Now
Call us now
Video instructions
Slitter Blades for the Metal Industry - Unleash the Power of Precision
When it comes to metal sheet slitting and stripping, TFI Co. is your ultimate partner. Our cutting-edge slitter knives are designed to meet the unique demands of the metal industry, delivering unparalleled performance and efficiency. With a strong presence in the United Arab Emirates, Kingdom of Saudi Arabia (KSA), and Qatar, we are the go-to choice for businesses seeking top-notch slitting solutions.
Metal Strip Slitter - Mastering Precision Cutting
At TFI Co., we specialize in manufacturing slitting knives specifically tailored for metal sheet stripping slitter machines. Our slitting knives are meticulously crafted using the finest materials, including high-quality alloy steel and tungsten carbide. For enhanced precision and protection, we even offer slitting knives equipped with rubber inserts, ensuring the utmost care for your valuable metal sheets.
With our deep-rooted expertise in steel blade manufacturing since 1965, we prioritize the vital aspect of heat treatment. Each slitter knife undergoes a meticulous heat treatment process, guaranteeing optimum hardness, toughness, and wear resistance. Our commitment to excellence extends to providing spacers for two slitting blades, making our products versatile and highly effective in meeting your unique requirements.
Countries We Proudly Serve - A Global Footprint
At TFI Co., we take pride in our global reach and the industries we serve. Our cutting-edge slitter blades have gained recognition and trust in various countries, including Saudi Arabia, the United Arab Emirates (Dubai and Abu Dhabi), Qatar, Oman, Belarus, and Russia. We have successfully empowered factories and machine manufacturers across the globe with our unrivaled precision and quality.
As we continue to expand, we eagerly look forward to serving more countries in other regions, bringing our exceptional slitting solutions to industries worldwide. With over 60 years of experience in the industry, our team of experts is dedicated to providing the highest quality products and exceptional customer service. When you choose TFI Co., you choose a partner committed to your success.
Saudi Arabia
United Arab Emirates (Dubai, Abu Dhabi, Sharjah and Ras Al Khaimah)
Qatar
Oman
Belarus
Russia
Upload Your Drawings Now
Call us now
Video instructions
Please don't hesitate to contact us for any inquiries. We are here to assist you!